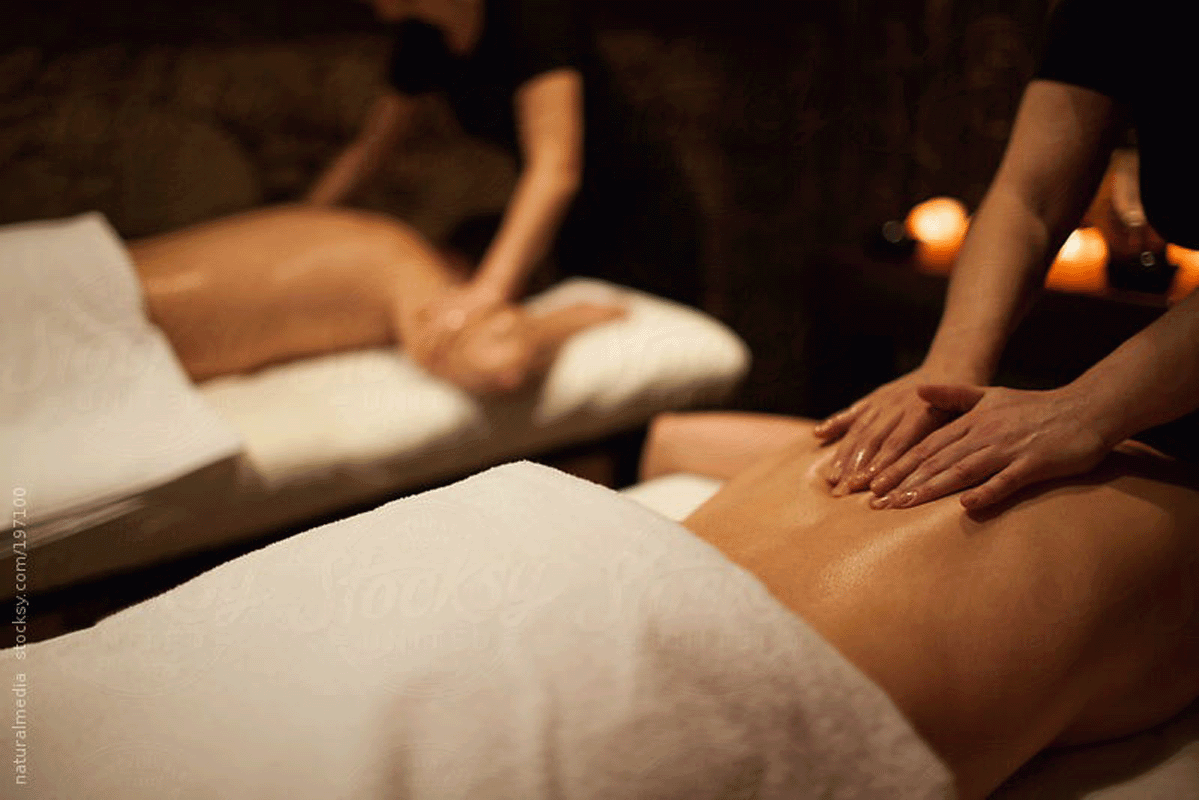 Relax and rejuvenate with a loved one with any of our luxurious Day Spa treatments. Not sure what to choose? Here are a few hand picked treatments that every couple loves!
Couples Embrace 1.5 hours $195 per person
An hour long full body massage followed by a stress relief express facial
Swiss Bliss 2 hours $255 per person
An hour long full body massage with a mixture of essential oils begins this treatment and is followed by our Stress Relief Express Facial using our natural SwissWellness skincare range. Finally, we finish with our Swiss Wellness Indulgent Foot Ritual. 
De-Stress Approx. 2 hours $195 per person
Infrared Sauna + 75min Full Body Massage
Infrared saunas heal and help detoxify the body. Benefits include improved blood circulation, relief from muscle tension, stress relief, glowing skin, and a strengthened immune system. After relaxing and warming up in the Infrared sauna, your entire body will reap the benefits of an extended massage using our natural and organic oil. Choose from a variety of massages including Swedish, aromatherapy, sports, remedial, or lymphatic drainage.
Full Body Energiser 90 minutes $195 each
This is an energising treatment designed for recovery after stress or strenuous work. Dry brushing begins this treatment to gently exfoliate the skin and stimulate circulation. A full body massage follows using an energising and warming blend of essential oils. A deeply relaxing and rejuvenating express facial concludes this treatment leaving you feeling revitalised and invigorated.
Traveller's Package 2 hours 30 minutes $235 each
Travelling can leave you feeling tired and lethargic so why not treat yourself at SwissWellness? You will begin with a sauna to help detoxify your body and ward off illness and fatigue. Next, you will receive an hour long massage to help relieve muscle tension. A Stress Relief Express Facial concludes this treatment to cleanse and purify your skin after travel.
We can organise a light freshly made platter for you both to enjoy together at the end of your treatment for an additional $20 per couple. Please notify us when booking!
 Online Store

 Products for the pure, active   and natural nutrition of the skin.
Book an appointment
At Swiss Wellness your health and wellbeing is important to us. Come and enjoy our unique range of natural and organic treatments and products. Experience for yourself the Swiss Wellness difference!
"I love it there. I try and have an infrared sauna every week. It's a nicer sort of heat than your normal sauna, and I find it really improves my circulation and helps with detox. I feel really good afterwards and fully cleansed. The massages I've had have also been brilliant."
Anna, Unley Park